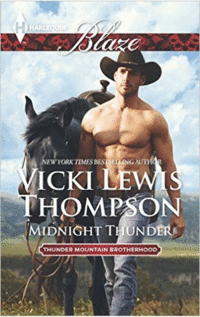 Author Vicki Lewis Thompson offers one US reader a chance to win the three autographed novels that launched her Thunder Mountain Brotherhood series:


Midnight Thunder
Thunder Mountain Ranch was the only place cowboy Cade Gallagher had ever called home. But after he and Lexi Simmons broke each others' hearts, he left it behind, along with his foster family. Now Cade's returned to discover his foster mother is hospitalized, the ranch is in deep financial trouble, and Lexi isn't the girl she used to be. She's happy to have him in her bed, but only if he keeps out of her heart.
Thunderstruck
Damon Harrison never gets too involved. A cowboy at heart, Damon has turned his commitment phobia into a living—flipping houses. The only exceptions to that rule? His foster family at Thunder Mountain Ranch. And now those "exceptions" have talked Damon into working on a new project with a carpenter named Phil...only "Phil" is a nickname for Philomena Turner. And she's about to flip Damon's world upside down.


Rolling Like Thunder
All work and no play makes Finn a dull cowboy. Since his divorce, Finn O'Roarke has put all of his time into his Seattle-based microbrewery, unaware that back in Wyoming, his foster parents are on the verge of ruin. Now Finn and his foster brothers are trying to save Thunder Mountain Ranch—and only one woman can help them turn it all around.

Marketing guru Chelsea Trask has had a thing for the gorgeous brewer for ages. When they work together at Thunder Mountain Ranch, however, she starts to see Finn's cowboy side. And it's irresistibly hot. Best of all, the attraction that's been sizzling beneath the surface has erupted in some very sexy situations. But is Chelsea falling for the real Finn...or for the cowboy he used to be?
And remember her latest release, COWBOY AFTER DARK.
Thunder Mountain Brotherhood #6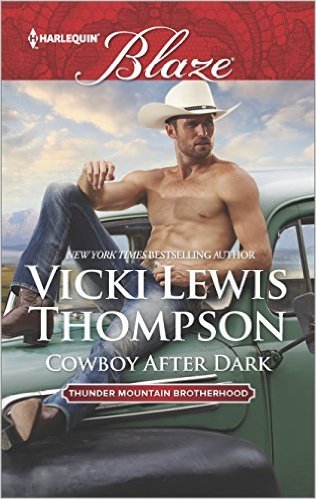 Hotter when the sun goes down
White- water rafting guide Liam Magee is a cowboy at heart—happy to return to his country roots at Thunder Mountain Ranch for his foster brother's wedding. And when Hope Caldwell shows up as a guest…well, the occasion just got more interesting. She's started looking at Liam like he's one ride she couldn't possibly resist, so why is she holding back?
Hope can't keep her eyes (and her sexy thoughts) from the hotness that is Liam. She'll never let herself believe in love and happy endings—she learned that lesson the hard way—but maybe she can have a little fun while she's on vacation. After all, there's only so much trouble one cowboy can cause in a week…especially once the sun sets!
Contest ends: July 31, 2016