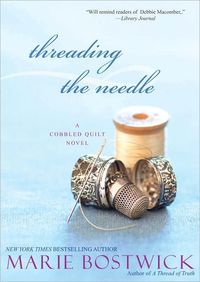 Even if you aren't a quilter you'll find much to love in the books of the Cobbled Court Quilt Circle where women find support, help, friendship and most of all love in a small town in New England. Marie is giving away the fourth book of the series, THREADING THE NEEDLE.
* * *
In this luminous prequel to her beloved Cobbled Court Quilts series, New York Times bestselling author Marie Bostwick takes readers into the heart of a small Texas town and the soul of a woman who discovers her destiny there. . .
Welcome to Too Much--where the women are strong-willed and the men are handsome yet shiftless. Ever since Mary Dell Templeton and her twin sister Lydia Dale were children, their Aunt Velvet has warned them away from local boys. But it's well known that the females in Mary Dell's family have two traits in common--superior sewing skills and a fatal weakness for men.
While Lydia Dale grows up petite and pretty, Mary Dell just keeps growing. Tall, smart, and sassy, she is determined to one day turn her love of sewing into a business. Meanwhile, she'll settle for raising babies with her new husband, Donny. But that dream proves elusive too, until finally, Mary Dell gets the son she always wanted--a child as different as he is wonderful. And as Mary Dell is forced to reconsider what truly matters in her family and her marriage, she begins to piece together a life that, like the colorful quilts she creates, will prove vibrant, rich, and absolutely unforgettable. . .
* * *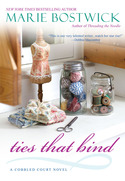 (Kensington April 24, 2012)
In her compelling, beautifully crafted novel, New York Times bestselling author Marie Bostwick celebrates friendships old and new--and the unlikely threads that sometimes lead us exactly where we need to be. . .
The economic downturn has hit New Bern, Connecticut, and Tessa Woodruff's herbal apothecary shop, For the Love of Lavender, is suffering. So is her once-happy thirty-four-year marriage to Lee. They'd given up everything to come back to New Bern from Boston and start their business, but now they're wondering if they made the right decision. To relieve the strain, Tessa signs up for a quilting class at the Cobbled Court Quilt Shop, and to her surprise, rediscovers the power of sisterhood - along with the childhood friend she thought she'd lost forever... Madelyn Beecher left New Bern twenty years ago and never looked back. But when her husband is convicted of running a Ponzi scheme and she's left with nothing but her late grandmother's cottage, she is forced to return to the town she fled. Unfortunately, the cottage is in terrible shape. Madelyn's only hope is to transform it into an inn. But to succeed, she'll need the help of her fellow quilters, including the one friend she never thought she'd see again - or forgive. Now Madelyn and Tessa will have to relive old memories, forge new ones, and realize it's possible to start over, one stitch at a time - as long as you're surrounded by friends...
Contest ends: March 31, 2014