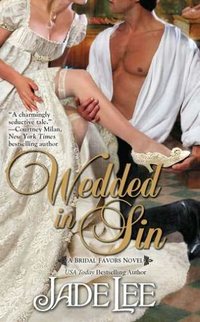 Jade Lee is giving away a copy of WEDDED IN SIN, Plus a WEDDED T-Shirt.
Don't miss the next in the series: WHAT THE GROOM WANTS



There can only be one winner in this game of hearts
Wendy Drew, co-owner of A Lady's Favor dress shop, is working at a gambling den to help pay off a relative's debt when she catches the eye of the den's owner. Wendy is attracted to his dark, dangerous ways but she has no idea how far he'll go to make her his.
Seaman Jacob Teel has been in love with Wendy from the first time he met her. Now he's home, done with the seafaring life, and has recently inherited a Welsh title. Finally, he can court Wendy for real-if he only he knew about his deadly competition.
* * *
THE GROOM'S GAMBLE


An original novella linked to Jade Lee's hot new Regency bride series, a prequel to What the Groom Wants.
Caroline Lyncott, great grandaughter of the Duke of Bucklynde, has a secret. Years ago she was attacked and still bears the terrible scars. To escape the scandal and the reminders, she left everything behind to become housekeeper to a Scottish brother and sister.
Gregory Murray, the Earl Of Hartfell, has a secret as well - he harbors a deep attraction to his housekeeper, Mrs. Lyncott. He knows she has a past, but doesn't know how to fix the pain that still haunts her. His investigation leads him to the darkest London gaming hell and a villain too powerful to destroy.
Can his love overcome her desperate past? Can she risk her heart despite the evil that still haunts her nightmares?
Contest ends: March 31, 2014