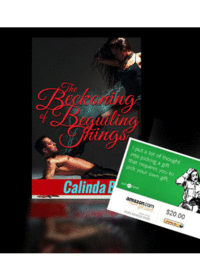 Enter to win an e-copy of Calinda B's upcoming book, The Beckoning of Beguiling Things, the prequel to The Beckoning Series, and a $20 Amazon gift card.
The Beckoning of Beguiling Things is part of an exciting Girl's Night Out Bundled Book (visit TBR Authors), with NYT Bestselling author CJ Ellisson, and bestselling authors Lila Dubois, Patricia Wolf and yours truly, Calinda B. It will be released to the public mid-April:
Can 24 hours really change your life? Marissa Engles is about to find out. When she heads to Las Vegas with her sisters and her best friend, she meets sexy, Thunder from Down Under dancer Chris King and hits the jackpot.
A secret magical society, The Numina, is planning to influence big change in her through her interplay with King. An evil sorcerer is hell bent on preventing the exchange. And King himself has a dark secret that may prove Marissa's undoing. When all these worlds collide in one night, Marissa must choose the outcome – play it safe and walk away from heartbreak, or ignite into a maelstrom of passion? Everything hinges on her answer…
Contest ends: March 31, 2014