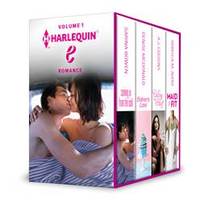 Indulge your craving for fresh contemporary romance. Enter to win an e-copy of
Harlequin E Contemporary Romance Box Set Volume 1




This contemporary romance set contains 4 full length novels.

Four Romances for One Amazing Price!
Coming in from the Cold by Sarina Bowen Stranded together by a blizzard, scholar-turned-farmer Willow Reade and bad-boy ski champion Dane "Danger" Hollister generate enough body heat to make it through the night. But the sparks don't stop flying when the snow does….
Maid to Fit by Rebecca M. Avery (Man Maid, Book 1) When stressed-out single mom Kayla Clark hires "retired soldier" Ronnie Brown from Man Maid to whip her household into shape, she's not expecting him to be young, hot and willing to take care of her more personal needs….
Calling His Bluff by Amy Jo Cousins Veterinarian Sarah Tyler isn't going to wait another eternity for hotshot photographer J. D. Damico to kiss her again. And she's gambling that what happens in Vegas will change her luck!
Baker's Law by Denise McDonald Bakery owner Marissa Llewellyn has always been sweet on sheriff Jax Carlisles, but her efforts to help a wayward teen have her bending the rules he's bound to uphold….
Contest ends: March 15, 2014