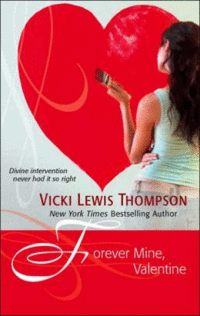 Valentine's Day and romance books are a match made in heaven! This Valentine's Day, I'm giving away a personally autographed pair of Valentine-themed books, including my classic Harlequin Temptation, FOREVER MINE, VALENTINE, and the feline-friendly anthology CUPID CATS, which features my novella, "A Cat's Game" and novellas by Katie MacAlister and Connie Brockway. And to top it off, I'm throwing in a $25 Barnes and Noble gift card.
May your Valentine's Day be filled with love!!

--Vicki
This one-of-a-kind-all-original anthology features stories by three bestselling superstar authors starring the mysterious, mischievous, and magical matchmaking felines of the Cupid Cats Animal Shelter, who assist their owners in finding romance and true love.
* * *
Talented artist Jill Amory is tired of her "Jill of All Trades, Mistress of None" reputation. She just can't seem to settle down into the fulfilling, crackerjack career everyone expects from her. So this is going to be the year she decides what to do with her life, traveling across the country to find her bliss. And that means no man--period!--until she's landed the perfect gig.
But destiny, in the form of warmhearted, elderly Charlie Hartman, has other plans. Charlie's convinced he's a modern-day Cupid with his eye on Jill for his friend Spence Jegger, Colorado Springs' resident marriage-a-phobe. Convincing Spence he's going to wed the first woman he sees on Valentine's Day might take some doing...until Spence takes one look at his intended.
Destiny is full of surprises....
Contest ends: February 9, 2014