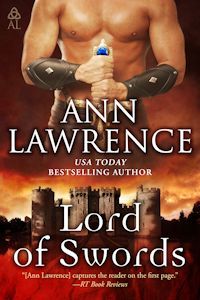 November is a month of thanksgiving...and holiday shopping! Enter to win a $25.00 gift card to either Amazon or Barnes & Noble (winner's choice) so you can do some early holiday shopping on me. And while you're shopping, buy LORD OF SWORDS for someone special on your holiday list.
Guy de Maci's son disappears during England's bloody civil war. Guy follows his son's trail to Stonewold Castle, becoming the bodyguard of Stonewold's heir. Guy uses the child as a cover to search for his missing son, but guarding the boy hampers rather than helps Guy's efforts. He is soon entangled in not only the boy's life but also that of the child's sister, the rebellious and utterly captivating Lady Joia.
Lady Joia, betrothed to a man she despises, tries to enlist Guy in her plots to free herself from marriage. All of Guy's warrior skills are useless when it comes to resisting Lady Joia. But should he? Or should he succumb to the passion shimmering between them and learn the true meaning of love before they are separated forever?
Contest ends: November 30, 2013