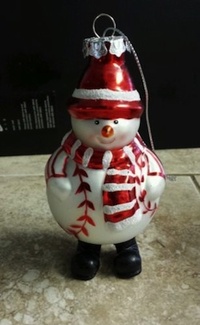 INSIDE HEAT recently received the Heart of Excellence Readers Choice Award from the Ancient City Romance Authors Chapter of Romance Writers of America. To celebrate, I'm giving away this cute little baseball snowman ornament to one lucky entrant.
Professional baseball players Jeff and Jason Holder are at the top of their game. Jeff is the Texas Mustangs' closer, revered throughout the Major League for throwing inside heat, while his twin brother Jason is the team's starting catcher and star hitter. The two have always shared more than their identical DNA, so when they meet Megan Long, it's no wonder they both want her.
Megan doesn't know baseball, but she does know a sexy guy when she sees one - or two. Unable to resist their charms, Megan finds herself in bed with both of them, but falling in love with only one.
When a potentially career-ending injury sidelines Jeff, his ego takes a hit too. Megan finds herself on the outside – the dirty little secret. It doesn't help that Jeff has gotten the wrong impression about her and his brother.
It will take more than a little physical therapy for Jeff to mend his arm, and his relationship with Megan.
Contest ends: November 30, 2013