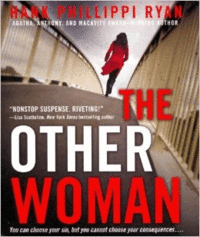 In any vote for the collectible of the year, the Boston Strong T-shirt should win hands down! Take one of these wearable gems and couple it with an audiobook of Hank Phillippi Ryan's Mary Higgins Clark award-winning mystery, THE OTHER WOMAN, and you have a November contest prize to be coveted by anyone. (The winner could keep this stellar prize package for herself—or tuck it away for a holiday gift. The card could read: "The best of the best, compliments of Emmy award-winning investigative Boston TV reporter Hank Phillippi Ryan.")
The rave reviews keep coming in for this exceptional author. About Hank and her September Jane Ryland novel, the Providence Journal writes, THE WRONG GIRL is "a dizzying and ingenious thriller … (a) tight and twisty tale … She's every bit the equal of Lisa Gardner and Harlan Coben …"
Praised by many bestselling fellow authors, including Robert B. Parker, Lisa Scottoline, Sandra Brown, Lee Child, and more, Hank Phillippi Ryan's books are skillfully told tales inspired by some of the real-life cases she's reported on, stories that have broad appeal and will keep readers rapt. She is uniquely qualified to spin some of the most fascinating stories she's covered into can't-put-'em-down page-turners.
Read about THE WRONG GIRL on Hank's website—and like Hank on Facebook to keep up with her skyrocketing career.
The spin-chilling, heart-wrenching suspense novel explores a terrifying scenario that strikes at the heart of every family. Does a respected adoption agency have a frightening secret? Tipped off by a determined ex-colleague on a desperate quest to find her birth mother, Boston newspaper reporter Jane Ryland begins to suspect that the agency is engaging in the ultimate betrayal—reuniting birth parents with the wrong children.
For detective Jake Brogan and his partner, a young woman's brutal murder seems a sadly predictable case of domestic violence, one that results in two toddlers being shuttled into the foster care system. Then Jake finds an empty cradle at the murder scene. Where is the baby who should have been sleeping there?
It's a trail of twists and turns that takes them deep into the heart of a foster care system in crisis and threatens to blow the lid off an adoption agency scandal. With a killer at large and an infant missing, time is running out ...
Contest ends: November 30, 2013