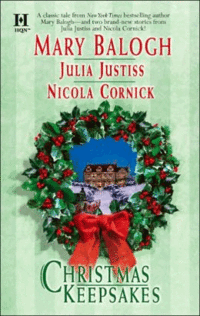 November marks the beginning of Julia's favorite time of year--the holiday season, with family gatherings from Thanksgiving through the New Year. For all holiday lovers, Julia is offering one winner a copy of two Christmas novella collections.
"Christmas Wedding Wish" in ONE CANDLELIT CHRISTMAS features Wellington family member, Meredyth, who after her elder sisters Sarah (THE WEDDING GAMBLE) and Elizabeth (A MOST UNCONVENTIONAL MATCH) marry, has taken up the role of caretaker for her younger siblings. Well and truly on the shelf, Meredyth looks forward to the family reunion that is Christmas at Wellingford, never dreaming that her brother's handsome friend, Allan Mansfell, would give her a second look. But Christmas is the season of miracles... The collection also includes stories by fan favorites Annie Burrows and Terri Brisbin.
"The Three Gifts" in CHRISTMAS KEEPSAKES features soldier's daughter Edwina Denby, who, to ease the mind of dying Captain Miles Hampton, agrees to a marriage of convenience. But when her skilled nursing helps the man she's secretly admired to survive, she must decide to do with her chance-wed husband! The collection also includes stories by New York Times bestselling authors Mary Balogh and Nicola Cornick.
Contest ends: November 30, 2013