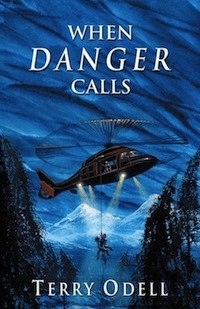 Enter below to win an autographed hardcover copy of WHEN DANGER CALLS and a $10 Amazon gift card.
If someone asks single mother Frankie Castor to clear a room, she'll smile and find a vacuum cleaner. Ryan Harper uses a gun. Can they work together when their lives depend on it?
Frankie's returned to her childhood home in Montana to help care for her mother. Her biggest worries are balancing the budget and the upkeep of an aging home. When she offers a man a ride home from the hospital, she never imagines she'll end up having to choose between her daughter's life and matters of national security that could cost the lives of millions.
Ryan returns to his family home to find a way to prove he didn't leak vital information on a covert ops mission gone south. As he searches for the meaning of a file he's kept hidden from the mission, he has no idea that international mercenaries have been searching for it—and him. When the mercenaries come after Ryan, he's torn. Fighting for his country wars with fighting to rescue people he loves. Set against a Montana mountain backdrop, When Danger Calls is a story filled with action, adventure, and romance, where the stakes keep getting higher and higher.
The Blackthorne, Inc. covert ops team is back with another action-adventure romantic suspense from Terry Odell. This time, it's Computer Nerd meets Cartel Lord.
For Jinx, interacting with people is highly overrated. Computers are his life. On the job, he's an intel gathering expert for Blackthorne, Inc. Off duty, he's a shooter in computer role playing games. But what happens when he's sent into the field to face real enemies with real guns?
Josiah Ignatius Nix—Jinx to all who know him—is the glue holding the Blackthorne, Inc. covert ops teams together when they're on a mission. In the comfort of his basement office, with his favorite companions—his computers— a click of the mouse provides him with up-to-the-minute intel, which keeps the team alive.
Until the intel fails and a hostage rescue mission goes south. Both the hostage and team are captured, and the boss sends Jinx to the jungles of Mexico as an undercover field agent. The cartels have been kidnapping American engineers to build and maintain their private cell phone networks. Jinx's skills make him a prime target for capture, a way to infiltrate the cartel and rescue not only the company's client, but also the missing team of operatives.
Soon, he finds himself paired with Elle Sheridan, a cop whose missing sister is in the middle of a human trafficking ring. Will Elle be able to convince Jinx that Blackthorne's mission needs to be expanded to include rescuing her sister? And if she does, will the two of them be able to stay ahead of rival cartel leaders and get out alive to make some private connections of their own?
Contest ends: November 30, 2013