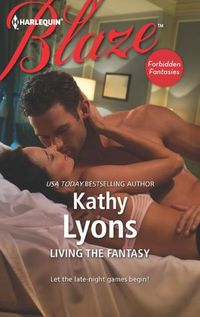 Don't miss Kathy's latest books from Entangled Publishing.
Fantasy combined with sizzling erotic contemporary romance is a trademark of Kathy Lyons. The latest two books, available in e-format at your favorite e-book seller site, will satisfy your longing for hot romance with a fantasy kick.
By day they're professionals. By night, they're lovers.
Hotel chain CEO and millionaire Wyatt Monroe is a stick in the mud. Sure, he's hot as sin, even with the tie, but free-spirited assistant Megan Bradford refuses to jeopardize their perfect working relationship. Why mess that up with sex? She knows he's the love 'em and leave 'em type, and she's determined to find a family man.
Wyatt would never cross the line between boss and employee with Megan, no matter how hard it might be to resist the temptation. But when they visit a mysterious B&B in a bid to acquire the property, he starts having erotic dreams about the sexy brunette that make it hard to resist her in daylight.
Soon the line between reality and dreams further blurs when they learn they were sharing the same erotic dreams...
* * *
What starts out as a simple massage treatment for spa manager David's best friend Kim, turns into a night of seduction and sexual discovery.
Always relegated to the friend zone, David is determined to show Kim what she's been missing...one erogenous zone at a time. Sure, their friendship is on the line. And sure, David's hiding a motive larger than either him or Kim. But the second his hands touch her smooth skin, he just doesn't care anymore.
Kim's been so focused on the loss of her sports career that she's had no time for romance or sex. But her response to David can't be denied. Is it just that her body's been missing out, or could her heart be involved too?
Contest ends: November 30, 2013