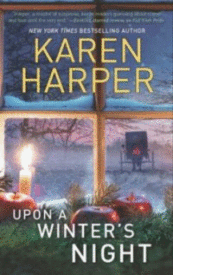 Get ready for some holiday reading from best selling authors published by Harlequin. The winner will also receive beautifully crafted gift tags to use for holiday gift wrapping. A deal! Open to US and Canada
A SEASIDE CHRISTMAS by Sherryl Woods - Jenny Collins is drawn back to her childhood home in Chesapeake Shores this holiday season to make peace with the past. Caleb Green, the singer who broke her heart, has followed her there to win her back.


UPON A WINTER'S NIGHT by Karen Harper - examines the life of a young Amish woman, Lydia Brand, who is adopted and searches for her biological parents. Once she learns about her past, lives are shaken and scandals rock the community.


Sleigh Bells In the Snow by Sarah Morgan - USA today Bestselling author introduces the first of the O'Neil brothers in a brand new holiday series. Kayla Green wants Christmas to be over, so when she is asked to work in Vermont, she is grateful for an excuse to avoid the holidays. Then she crosses paths with the person who hired her, Jackson O'Neil. A White Christmas meets A Christmas Carol - this title is already getting rave reviews and will make for a cherished holiday read.


CALL ME MRS. MIRACLE by Debbie Macomber - Emily Merkle (Mrs. Miracle) is working in the toy department of Finley's and her boss is Jake Finley, the owner's son. Miss Miracle spends her time helping Holly Larson to get her young nephew, Gabe, the holiday gift he deserves and does a bit of matchmaking on the side.


CHRISTMAS ON 4TH STREET by Susan Mallery - Noelle opens a new Christmas store in Fool's Gold, California. Business is booming and, despite his sour grapes memories of Christmas past, Gabriel Boylan, a gorgeous and recently injured army doctor, has offered to help out during the holiday rush.


SLEIGH BELLES by Beth Albright - Local news reporter and elegantly coiffed Dallas Dubois is ordered by her station manager to take the reins of the Tuscaloosa children's Christmas play. Everyone is shocked - especially Cal Hollingworth who remembers her as the Ice Queen from high school.


TAKE ME HOME FOR CHRISTMAS by Brenda Novak - Everyone in Whiskey Creek remembers Sophia DeBussi as the town's Mean Girl. Especially Ted Dixon, whose love she once scorned. But she is paying the price for her old ways. Her rich, powerful and abusive husband has disappeared leaving her to deal with an FBI probe of his investment firm. She's not only penniless, but her husband has left her to face all the townspeople that he cheated...


Contest ends: November 30, 2013