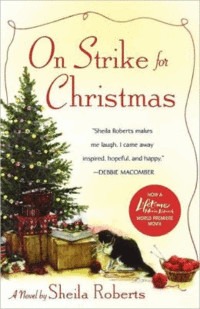 Sheila Roberts is celebrating the holidays and the reissue of two of her favorite Christmas books, MERRY EX-MAS and ON STRIKE FOR CHRISTMAS. Enter to win a copy of each of these fun holiday reads and a $25 Macy's gift card.
Christmas is the best time of year in Icicle Falls, Washington. But this year it's not so merry...for three of its residents, anyway...
Cass Wilkes has been looking forward to her daughter Danielle's wedding...until Dani announces that she wants her father, Cass's ex, to walk her down the aisle. Seriously? Even worse, it seems like he, his trophy wife, and their yappy little dog will be staying with Cass...
Her friend Charlene Albach arrives at their weekly chick-flick night in shock. She's just seen the ghost of Christmas past: her ex-husband, Richard, who left her a year ago, running off with the hostess from her restaurant, Zelda's, to start a new life (and restaurant) in Seattle. Now the hostess is history and he wants to kiss and make up. Hide the mistletoe!
And bring out the hot buttered rum because the holidays aren't proving so easy for Ella O'Brien, either. Ella, newly divorced, is still sharing the house with her ex while they wait for the place to sell. The love is gone. Or is it?
Watch as Christmas brings all kinds of surprises.
Contest ends: November 30, 2013