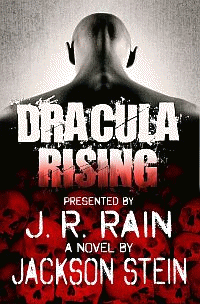 Get ready for the adventure with a copy of DRACULA RISING and $50 Amazon gift card!
Presented by #1 bestselling Kindle author, J.R. Rain. An epic tale of honor, adventure and secrets...
400 years before Bram Stoker put his pen to paper...
Bad things were happening in Transylvania...deadly things. The king of Wallachia joined a secret society with his intentions unknown. That is, until his son, Prince Vlad the third, begins to unravel the ancient mystery. Are these the deeds of a powerful king or something more sinister? Only Vlad can uncover the truth, one that leads to long buried secrets, unexpected journeys, and a future that pits father against son and loyalty against honor. With the fate of humanity in the balance, Vlad finds himself the centerpiece in a supernatural battle...with the lives of the people he loves most at stake.
Please stop by (and like :) my Facebook page!
Contest ends: September 30, 2013