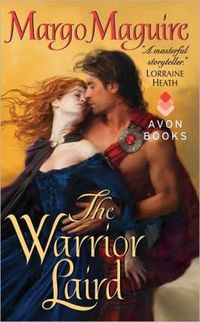 Leave a comment today on Margo Maguire's guest blog post for a chance to win your own copy of The Warrior's Laird.
Haunted by horrors of his childhood, Dugan MacMillan has sworn to protect his clan at any cost . . . even if he must search for a rumored treasure and kidnap a beautiful thief to do it.
The MacMillan laird has never crossed paths with anyone quite like Lady Maura Duncanson. After he saved her from certain death, the comely vixen had the audacity to disappear with his treasure map, his only key to restoring his clan. Dugan has no qualms about taking Maura hostage, especially when he learns she is to wed a wealthy old baron who will pay him a fortune in ransom . . . a fortune his people desperately need.
But, of course, Maura has no intention of returning to her despicable fiancé. And the longer Dugan spends in the bewitching hellion's presence, the less willing he is to surrender her to any man . . . at any price.
You must leave a comment on Margo Maguire guest blog post to win.
Contest ends: September 2, 2013