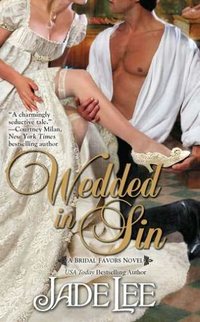 Jade Lee is giving away a copy of WEDDED IN SIN, Plus a WEDDED T-Shirt.
Don't miss her latest historical series with the first book WHAT THE BRIDE WORE
This hot new series is set in a daring, high-energy Regency world where deep longings, secret scandals, and the competition for social stature are all set against the glittering weddings of the season.
Grant Benton, Earl of Crowle finally has the funds he always pretended to have and what he wants now is a woman. That woman is Lady Irene Knopp, who spends her days helping debutantes plan their weddings. A recent widow, Irene longs for love again, but she's afraid to risk her heart, especially to the notorious Grant Benton.
* * *
An original novella introducing Jade Lee's hot new Regency bride series.
Due to his aristocratic family's downfall, William Benton serves as steward on the land his brother should have inherited. His one weakness is for the daughter of the new owner. Josephine Lawton is beautiful, charming, and enamored of titles and all things aristocratic. So when she becomes engaged to a man he knows to be a wastrel and a fool, Will puts all his passion into restoring his family's honor and winning the woman he loves. It's going to be a hot summer on the estate.
Contest ends: September 30, 2013