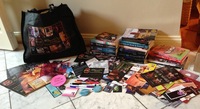 I had an absolute blast at RNC this year! It was Jimmy Thomas's first year doing the con, and while, yes, there were some bumps, overall the con was really fantastic! I knew readers would be bummed they couldn't attend and brought back TWO tote bags stuffed with all sorts of goodies and SWAG from the event.
Inside your prize there will be five autographed books, randomly picked from signed copies by Bianca Sommerland, Hildie McQueen, Selene Chardou, Cylie Kyle, Cynthia Lucas, Milly Taiden, Athene Moore, Sherri Hayes, Liliana Hart, Elle Chardou, Amber Polo, C.J. Ellisson, and Catherine Bybee!
If you'd like another chance to win one of three more RNC bags stuffed like these, please stop by my website, where you'll see a rafflecopter entry widget directly below September's newsletter.
~C.J.
Meet Vivian. She's a 580–year–old vampire who exudes sex, has a talent for drama, and is passionate about two things: her human husband, Rafe, and their resort for the undead. Her ability to project physical illusions has created the perfect vacation spot –– a dark, isolated Alaskan hideaway where visitors can have their wildest fantasies come true.
Vivian knows the best performance requires perfect timing, but the powerful vamp is put to the test when she discovers a corpse in a locked guestroom minutes before the next arrivals. Always cool–headed, Rafe hides the body, convinced he and Vivian can find the culprit without disturbing their guests.
Juggling the increasingly outrageous demands of their customers while tracking a killer isn't easy. Will their poking and prodding give them the answers they need, or will it uncover secrets Vivian would kill to protect?
Contest ends: September 30, 2013