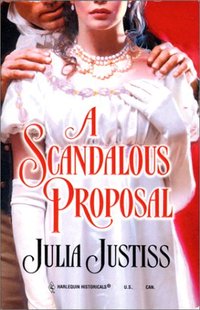 For this month's contest, Julia offers one winner a copy of two books whose number of Amazon reviews has identified them as Fan Favorites.
In A Scandalous Proposal, as "Madame Emilie," proprietress of a fashionable bonnet shop, widowed Emily Spenser struggles to raise her son in a manner befitting a marquess's grandson--while keeping his existence hidden from said marquess. Her efforts are jeopardized by the attentions of the Earl of Cheverley, who, enchanted by this "shopkeeper," makes every effort to woo her.
In The Untamed Heiress, after the death of the father who kept her a virtual prisoner, heroine Helena Lambarth makes her way from their remote estate to the London home of Lady Darnell, her late mother's best friend. There's just one problem in that lady's plans to guide Helena through the treacherous waters of the ton toward the safe haven of marriage: the insidious attraction posed by her already-engaged stepson Adam, Lord Darnell.
For a chance to win these fan favorites, enter below!
THE RAKE TO RUIN HER Harlequin Historical March 2013
THE RAKE TO REDEEM HER Harlequin Historical April 2013
Contest ends: September 30, 2013