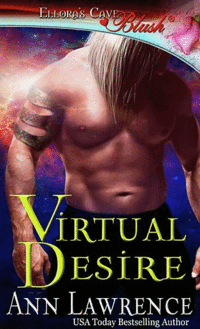 Summer is winding down and if your hands are suffering from all the weeding you've been doing this summer, enter Ann's September contest. Along with an ebook copy of Ann's paranormal romance, VIRTUAL DESIRE (winner's choice of digital format), Ann will send you a great Crabtree and Evelyn Gardener's repair set packaged in a cute watering can. VIRTUAL DESIRE is the second book in Ann's "Perfect Heroes" series being reissued this month for the first time as an ebook.
Vad has only one desire--regain his sword and the warrior honor it represents. When a beautiful and alluring woman appears to him, he's sure she's been sent to help him.
Gwen, a game shop owner, has only one desire--peace and quiet, hard to find during the tourist season in Ocean City, New Jersey. When a gorgeous war-gamer insists she "enter" a game and help him complete a quest, she's sure he's crazy. But soon, crazy or not, Gwen finds she'll follow this sexy man anywhere.
US & Canada only
Contest ends: September 30, 2013