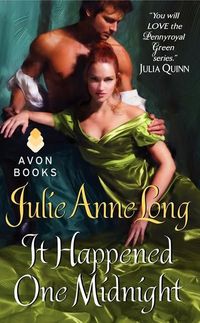 Leave a comment today on Julie Ann Long's guest blog post for a chance to win two of Pennyroyal Green series backlist


Thomasina "Tommy" de Ballesteros, the bastard daughter of a duke, has the men of London at her feet. But with a secret mission to save the children of London from the fate she suffered as an illegitimate child, she has nothing but scorn for men—especially those like playboy Jonathan Redmond. But when Redmond himself discovers her in a compromising nocturnal position, she's left with a far more challenging task: controlling her heart and refusing her desires.
Jonathan Redmond is well on his way to becoming a first-class rake. With his devastatingly good looks, the Redmond family fortune, and an effortless charm with the ladies, he's got the world at his fingertips. There's just one catch: Fortold by a gypsy woman that he'll sire ten children, Redmond isn't letting women anywhere near his heart. That is, until an unforgettable midnight encounter with the alarmingly willful, self-possessed Tommy makes him rethink everything, even the possibility of succumbing to prophesy—and love.
---
You must leave a comment on Julie Ann Long guest blog post to win.
Contest ends: July 3, 2013