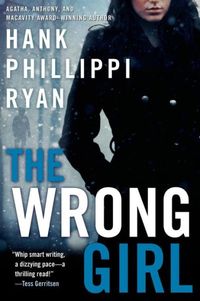 Ask readers to name their favorite contest prize, and most will say it's an Advance Reading Copy of a much-anticipated book. So Mary Higgins Clark award-winning author and investigative TV reporter Hank Phillippi Ryan is offering readers a delicious gem as her July contest grand prize: a rare ARC of The Wrong Girl. The riveting September 10 novel is the sequel to Hank's stellar hardcover debut, The Other Woman, which was named one of Suspense magazine's Best Books of 2012.
Tess Gerritsen, New York Times bestselling author of Last to Die, says, "Whip-smart writing and a dizzying pace make The Wrong Girl a thrilling one-night read!"

THE WRONG GIRL
Order Today
The spin–chilling, heart–wrenching suspense novel explores a terrifying scenario that strikes at the heart of every family.
Does a respected adoption agency have a frightening secret?
Tipped off by a determined ex–colleague on a desperate quest to find her birth mother, Boston newspaper reporter Jane Ryland begins to suspect that the agency is engaging in the ultimate betrayal—reuniting birth parents with the wrong children.
For detective Jake Brogan and his partner, a young woman's brutal murder seems a sadly predictable case of domestic violence, one that results in two toddlers being shuttled into the foster care system. Then Jake finds an empty cradle at the murder scene. Where is the baby who should have been sleeping there?
It's a trail of twists and turns that takes them deep into the heart of a foster care system in crisis and threatens to blow the lid off an adoption agency scandal. With a killer at large and an infant missing, time is running out...
Hank will send three additional winners a paperback of The Other Woman.
Read more about The Wrong Girl on www.HankPhillippiRyan.com–and like Hank on Facebook to keep up with her nationwide tour.
Contest ends: July 31, 2013