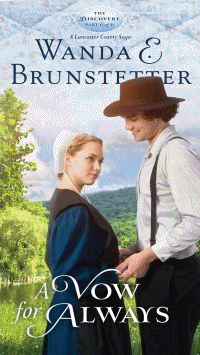 Award–winning and New York Times bestselling author Wanda E. Brunstetter, one of Amish fiction's earliest and most well–known authors, finishes The Discovery Saga, the 6–part serial novel series with A VOW FOR ALWAYS. The Discovery offers a compelling love story brilliantly mingled with an unexpected twist.
To celebrate this unique serialized story, Wanda will offer one grand prizewinner a handmade Amish box basket and copies of GOODBYE TO YESTERDAY, Book 1, THE SILENCE OF WINTER, Book 2, THE HOPE OF SPRING, Book 3, THE PIECES OF SUMMER, Book 4, and Book 5, A REVELATION OF AUTUMN, and Book 6, A VOW FOR ALWAYS. MEASURING 10" L x 7" D x 6 1/4" H, this basket, with a lid and two handles, was originally designed for carrying your lunch. Today it is generally used as a decoration in the home. Use it as a fruit or storage basket or simply place greenery inside and display it as a centerpiece in your bedroom, bathroom, den, or kitchen. Four additional winners will each receive copies of all six books.

A VOW FOR ALWAYS
Order Today
Join Meredith and Luke Stoltzfus, an Amish couple who are faced with the greatest challenge of their young lives. A Vow for Always is part six of Wanda E. Brunsetter's The Discovery––A Lancaster County Saga.
To learn more about Wanda's novels, Amish facts and to see photos of her travels, visit www.WandaBrunstetter.com.
Contest ends: July 31, 2013