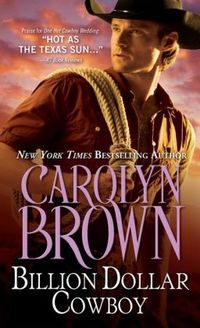 Leave a comment today on Carolyn Brown's guest blog post for a chance to win your own copy of BILLION DOLLAR COWBOY.
Colton Nelson was 28 when he won the Texas Lottery and went from ranch hand to ranch owner overnight. When people started lining up wanting some of his millions, he hired a friend, Andy Joe, to handle his affairs and find him a bride and buy her, no matter what the cost.
Laura Baker and her sister, Emily, had been raised in foster homes. Though she was the younger of the two, Laura was always bailing Emily out of trouble. So when Andy Joe slid into her booth at a diner one night and made a proposition to Laura, it seemed the perfect solution...until Laura met Colton and realized she didn't give a damn about his money and that her love was not for sale.
You must leave a comment on Carolyn Brown guest blog post to win.
Contest ends: June 13, 2013