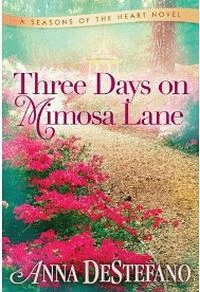 Win a signed ARC of Three Days on Mimosa Lane and a $5 Amazon Gift Card.

Three Days on Mimosa Lane
Order Today
Once, Sam Perry had it all. A loving marriage, an amazing job she adored as a preschool teacher, and a beautiful home. She was safe, happy and secure.

Then the unthinkable happened...

Watching his once carefree wife withdraw into herself was almost more than Brian Perry could handle. The only thing that kept him going was knowing that he loved her more than life itself. Moving her out of New York to Chandlerville, a small, quiet suburb of Atlanta, felt right. Anything, to get her away from the memories of the buildings, and her world, crashing around her.

Now, two sons and many years later, Sam cherishes the new life on Mimosa Lane that Brian built for them.

Until lightning strikes twice...

Called a hero by her small community, Sam feels more like a coward than ever. Instinct draws her into an altercation at her children's school—an instinct that also drives her away from the warm cocoon of her family.

Brian refuses to lose his wife again. He agrees to give her the space she asks for, but he soon realizes space isn't something they and their children can afford. He knows their love can still conquer all. But this time he'll need their entire community to help him win his wife back.
US / Canada Addresses only
Contest ends: July 22, 2013