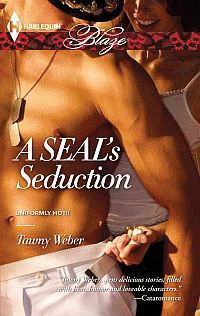 What better way to enjoy hot summer nights than with not one, but two hot, sexy SEALs! If the heat doesn't have you fanning yourself to cool off, these books will!!
Enter to win autographed copies of both A SEAL's Seduction and A SEAL's Surrender.

A SEAL's Surrender
Order Today
Subject: Lieutenant Commander Cade Sullivan
Status: On leave
Mission: He's home to take care of some family business.
Obstacle: Eden Gillespie. The girl who always lands in trouble...has landed in his bed!
Lieutenant Commander Cade Sullivan is the job. His commitment to the Navy SEALs is absolute—almost. Worse still, he's been summoned home, where his family is the town royalty and women vie to be one of Cade's conquests. One of them in particular....
Ever since they were kids, Cade has been rescuing Eden Gillespie. Now she's decided she owes him one heck of a thank–you—one that involves a bed, naked bodies and sweet satisfaction. But when their sexy trysts are discovered, Eden becomes a bit of a town sensation—and not in a good way. Can she convince her SEAL to risk one last rescue operation?
Uniformly Hot! The Few. The Proud. The Sexy as Hell.
US / Canada Addresses only
Contest ends: June 10, 2013