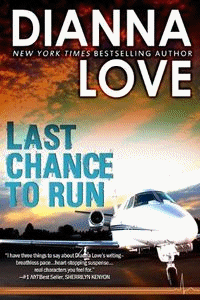 Enter today to win a monogrammed sling backpack full of signed books from NYT bestseller Dianna Love. Books include LAST CHANCE TO RUN, NOWHERE SAFE, JUSTIFIABLE and Dianna's new one coming in July - HONEYMOON TO DIE FOR (ships in July). (Continental US /Canada only)

Buy LAST CHANCE TO RUN


* * *
He has nothing to lose until she gives him a reason to live.
Thanks to a traitor, Slye Temp agent Josh Carrington should have died during the blown UK mission, but he didn't. Scars fade and nightmares can be managed, but he'll never forget watching an innocent woman die because she trusted him. Tempted by the best, he sticks to Personal Rule Number One: Never mix business with pleasure.
A faceless stalker has turned Trish's life into a living nightmare and threatens to kill anyone who helps her, including Josh, the new man on her brother's task force who has planted both unwelcome feet in the middle of her world and refuses to leave. The closer Josh gets to the twisted truth, the more he struggles to keep Trish out of harm's way--and his bed--but the sultry firecracker gets under his skin like no other woman, forcing him to question everything, starting with Rule Number One. Slye Temp sends Josh to uncover a leak in a DEA task force...a mole in league with the traitor who betrayed the UK team. A deadly shipment is bound for the US and nothing will stop Josh from taking down this mole, blocking the shipment, and nabbing the traitor. Not even Trish Jackson, hardheaded sister of his #1 DEA suspect.
Buy
Nowhere Safe


Contest ends: June 10, 2013