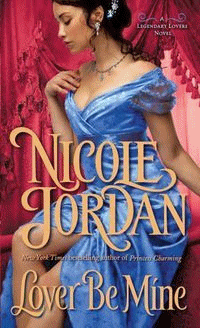 This spring The Fashion Statement is an eye–catching necklace, so for her Spring Fling contest prize Nicole Jordan is giving away this beautiful mosaic, multi–color bib necklace featuring faux amethyst, turquoise and jade stones. The gold–tone chain measures 16" long and is adjustable to 19". To sweeten the prize pot, Nicole is adding an ARC of LOVER BE MINE, the second book in her sizzling Legendary Lovers Regency historical series about the wickedly seductive Wilde cousins, who seek to find true love by taking a page from history's legendary love stories.
Two additional winners in Nicole's Spring Fling contest will each receive a copy of her first Legendary Lovers series novel, PRINCESS CHARMING.
Speaking of necklaces, check out the one on the cover of LOVER BE MINE, which goes on sale May 28.

LOVER BE MINE
Order Today
At a masquerade ball Sophie Fortin is supposed to be enchanting a duke her parents desperately need for her to wed when a swashbuckling pirate fires her passion with a dazzling kiss. Her desire quickly falters when she learns her masked gentleman is devilishly scandalous Lord Jack, a member of the captivating Wilde clan—and a man she's forbidden to acknowledge. But when Jack escalates his breathtaking seduction, Sophie can barely resist.
That one unforgettable kiss sabotages Jack's determination to ignore the daughter of his family's mortal enemy. Soon, Jack is so hell´┐Żbent on winning Sophie's hand that he abducts her to save her from marrying a rival nobleman. Determined to woo Sophie and her unyielding parents, Jack is faced with the one decision he'd sworn never to make. The secret heir to a prince, Jack has spurned his royal heritage for years . . . but for Sophie he'll do whatever it takes to turn a legacy of heartbreak into love ever after.
Visit www.NicoleJordanAuthor.com to learn about all Nicole's novels, including e–book reissues of her earlier books, and like her on Facebook!
US / Canada Addresses only
Contest ends: April 12, 2013