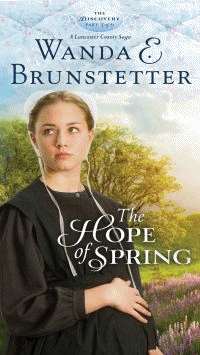 Award–winning and New York Times bestselling author Wanda E. Brunstetter, one of Amish fiction's earliest and most well–known authors, continues The Discovery Saga, a 6–part serial novel series with Book 3, THE HOPE OF SPRING. The Discovery offers a compelling love story brilliantly mingled with an unexpected twist.
To celebrate this unique serialized story, as well as the hope of spring, Wanda will award one grand prizewinner vintage–style Scrabble and Monopoly games and copies of GOODBYE TO YESTERDAY, Book 1, THE SILENCE OF WINTER, Book 2, and THE HOPE OF SPRING, Book 3. Each game is packaged in a deluxe wooden case and features a retro–style game board and game components. Four additional winners will each receive copies of GOODBYE TO YESTERDAY, THE SILENCE OF WINTER, and THE HOPE OF SPRING, Book 3.

THE HOPE OF SPRING
Order Today
Without Luke, Meredith is trying to piece her life back together, while in a hospital miles away, a young man fights for his life . . .
The young man found beaten in a bus station is still unresponsive. A compassionate nurse prays for the man she calls "Eddie" and often quotes scriptures to him. Can her voice pull him out of the dark place he's been in for so long?
After nearly losing her baby, Meredith Stoltzfus has never been so scared. Her parents are supportive, but they have younger children to care for. And while her rekindled friendship with Jonah Miller is a blessing, she aches for Luke and the love they shared. She needs Luke at her side, and her baby will need a father.
Can Meredith manage to provide for herself and her baby—alone?
To learn more about Wanda's novels, Amish facts and to see photos of her travels, visit www.WandaBrunstetter. com.
US / Canada Addresses only
Contest ends: April 30, 2013