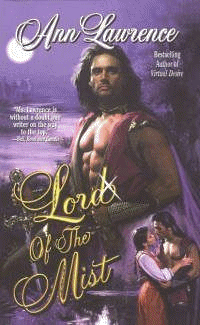 LORD OF THE MIST's heroine, Cristina le Gros, fashions soaps, perfumes, and love potions for the ladies of Ravenswood Castle. Can she create a potion for herself that will help her resist the desire she feels for Ravenswood's lord, Durand de Marle? And Durand can't resist Cristina either. Is he really in love with her or is there a secret ingredient in her soaps and perfumes that seduce him?
Enter to win four wonderful Crabtree and Evelyn Heritage soaps. They don't have any secret ingredients to help you seduce a lover, but they will remind you of the sweet scents of the coming Spring! And if you're like Ann, you like to take a book into the tub to read while you soak, so she'll send a copy of LORD OF THE MIST along with the soaps. And when you've finished LORD OF THE MIST, you'll want to return to Ravenswood Castle, so Ann's also including a $10.00 gift card so you can buy LORD OF THE HUNT! (Amazon, B&N, or IBook - Winner's choice)
If you win and you'd like to have LORD OF THE MIST in Ebook format instead of paperback, Ann will be happy to send that instead, but don't drop that e-reader in the tub!

Lord of the Mist
Order Today
Durand de Marle rode out of the mist and Cristina's life was never the same. Wife of a perfidious merchant, Cristina fashions soaps, perfumes, and love potions for the ladies of Lord Durand's manor. Can Cristina make a potion for herself . . . one strong enough to resist the captivating power of Durand de Marle?
Durand is a warrior lord who prides himself on his honor. Can he discover who has betrayed him? Is it his brother? A friend? Or yet another? And can Durand claim he is honorable if he cannot resist the love and desire he feels for another man's wife?
US Addresses only
Contest ends: April 8, 2013