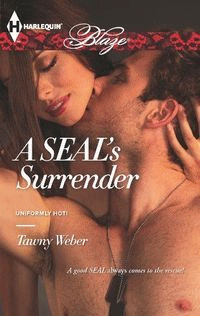 What better way to relax and enjoy Spring that with not one, but two hot, sassy books!
A SEAL's Surrender
Order Today
Subject: Lieutenant Commander Cade Sullivan
Status: On leave
Mission: He's home to take care of some family business.
Obstacle: Eden Gillespie. The girl who always lands in trouble...has landed in his bed!
Lieutenant Commander Cade Sullivan is the job. His commitment to the Navy SEALs is absolute—almost. Worse still, he's been summoned home, where his family is the town royalty and women vie to be one of Cade's conquests. One of them in particular....
Ever since they were kids, Cade has been rescuing Eden Gillespie. Now she's decided she owes him one heck of a thank–you—one that involves a bed, naked bodies and sweet satisfaction. But when their sexy trysts are discovered, Eden becomes a bit of a town sensation—and not in a good way. Can she convince her SEAL to risk one last rescue operation?
And if that's not enough, Cade's best friend Blake's story is just as hot...
A SEAL's Seduction
Order Today
Subject: Navy SEAL Lieutenant Blake Landon
Current Status: Two weeks of enforced leave
Mission: Distract himself in any way possible
Obstacle: A woman who tempts him to break the rules...including his own!
Navy SEAL Blake Landon (a.k.a. "Boy Scout") knows the rule book inside and out. Checked. Rechecked. But when a mission ends badly, his entire team is ordered on leave. And that's when Blake sees the tall redhead whose dark eyes suggest that the rules— especially those in bed—are made to be broken.
Scientist Alexia Lane has sex on the brain—partly for work, but mostly because she needs a man who makes her girly parts do the happy dance. Her only no–no? No military dudes. But Blake's rockin' bod promises delicious pleasures, and Alexia is halfway to sexual Nirvana before she can find out he's actually a Navy SEAL.
And where one rule is broken, more are sure to follow....
Uniformly Hot! The Few. The Proud. The Sexy as Hell.
Be sure to stop by Tawny's website and check out her fabulously fun Red Hot Readers club. A free feature that includes bonus excerpts, recipes, insider peeks into the stories and upcoming releases and special contests just for club members.
US / Canada Addresses only
Contest ends: April 8, 2013