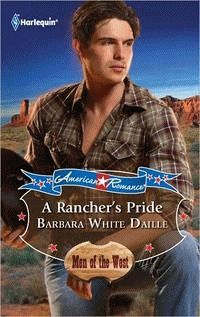 Win autographed copies of the first three books in the Flagman's Folly series: A Rancher's Pride, The Rodeo Man's Daughter, and Honorable Rancher.
(NOTE: If winner has some or all of the above, substitutions from backlist will be offered.)

Honorable Rancher
Order Today
The hero of Flagman's Folly has been gone more than a year. But he still stands between Ben Sawyer and what he desires most—Dana Wright, the love of Ben's life.
When soldier Paul Wright left for the last time, he made his best friend promise to look after his wife and kids. Ben—good, steady Ben—is honoring that promise. And it's burning him up inside.
Because Dana is shutting Ben out. She wants him—so much—but she can't afford to give in. If she does, she'll spill her secret, and the betrayal will hurt everyone she cares about—her children, who loved their daddy; her town, which loves its hero; and Ben, who loved his friend. She'll do anything to protect her secret—even give up her second chance at happiness.
US / Canada Addresses only
Contest ends: April 8, 2013