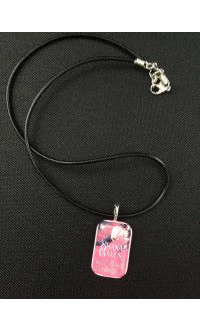 Win a signed copy of Shana Galen's When You Give a Duke a Diamond and If You Give a Rake a Ruby, a $10 gift card to Amazon, and a custom–made necklace featuring the cover of If You Give a Rake a Ruby.

If You Give A Rake A Ruby
Order Today
Fallon, the Marchioness of Mystery, is rumored to be a foreign princess, the daughter of a maharaja, a gypsy queen...
In reality she's the daughter of a pickpocket and a whore who grew up on London's streets. Protected on the guise of being one of the ton's most celebrate courtesans, Fallon has never accepted a man into her bedroom. Years later, Fallon thinks she's put her past behind her...
Until she discovers Warrick Fitzhugh in her bed.
Warrick Fitzhugh, youngest son of an earl, disgraced his family hen he joined the Foreign Office as an operative during the Napoleonic wars. Now, Warrick's fellow spies aer turning up dead, and he tracks the deaths to a notorious crime lord: Fallon's father. Using blackmail––and seduction––Warrick recruits the unwilling Fallon's aid. The two embark on a quest that leads them deep into London's underworld and face–to–face with their inner demons. Fallon, who never trusted any man, has to rely on Warrick and resist falling in love with him. Warrick, who suffers from flashbacks of the war, craves family and stability. Will he throw his dreams away for the irresistible Fallon?
US / Canada Addresses only
Contest ends: April 8, 2013