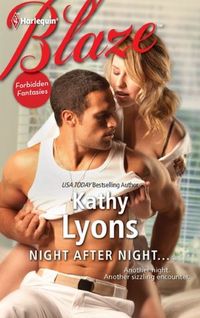 It's Spring Fling time at Fresh Fiction! Enter to WIN a SIGNED copy of Kathy Lyons book, NIGHT AFTER NIGHT
Ready for a Forbidden Fantasy? Then get ready for Blaze NIGHT AFTER NIGHT by Kathy Lyons (aka Jade Lee). It promises to deliver a scorcher!



(Harlequin Blaze March 20, 2012)

Time to order NIGHT AFTER NIGHT Another night. Another sizzling encounter

Forbidden Fantasies

He's the man of her X-rated dreams...

Schoolteacher Christy Baker has just had a naughty dream. A hot, intense and fantastically sexy dream. The next morning, however, Christy learns that the delish stranger in her hot little nighttime romp isn't some random guy -- he's her neighbor!

Lt. Jason White has been enjoying naughty dreams, too. In fact, they're the exact same ones. Somehow, he and Christy are having mind-bending hot sex while they sleep! But dreams are mirrors into the soul -- and Jason fears the mysterious bond he shares with a woman he hardly knows..no matter what the chemistry.

The only solution? To break the connection for good...by turning those haunting dreams into mind-blowing reality!
Contest ends: April 8, 2013