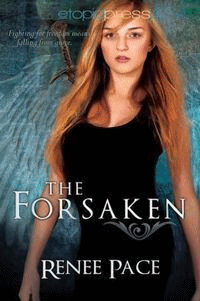 Do you believe in angels? Tell me why you believe in angels and you could win an e-copy of The Forsaken and a $20 Amazon gift card.

The Forsaken
Order Today
Fighting for freedom means falling from grace.
After taking up arms in a heavenly war, teen angel Isabella is banished to Earth. Her penance: to live as an immortal teenager. Her objective: to create a safe haven for her fellow exiled angels who believe in her mantra of independence. Faced with life on the mortal plane, she and her girls form a rock band as a means to literally sing for their supper.
But when Isabella saves a fallen male angel, things fall apart. If she thought her penance was hard before, she's got an even harder path to follow now that she realizes Nathan is her soul mate—and that he holds the key to returning her to the heavenly realm. But she has no intention of going anywhere if it means leaving her sisters alone in exile. Until she discovers a hellish plan to amass a human–turned–demon army. Now she must convince the very angels who cast her out that war can no longer be avoided—if they want to survive...
US / Canada Addresses only
Contest ends: April 8, 2013