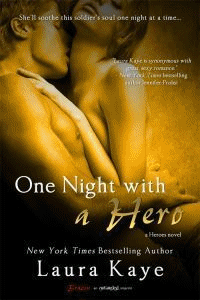 One lucky reader will win a signed paperback of both bestselling and award–winning Heroes novels along with some fun book swag (open to international). So don't miss this opportunity to hold Marco and Brady in your very own hands! And look for more Heroes novels in 2013!
Enter to win a signed paperback of HER FORBIDDEN HERO and ONE NIGHT WITH A HERO.
Like alpha military heroes and sexy contemporary romance? Meet Marco Vieri and Brady Scott.
Marco is a veteran coming to grips with his life after being discharged from the Army Special Forces following a head injury. There's no room in his messed–up life for his best friend's little sister Alyssa, but her long–held crush just won't let her take no for an answer.
Brady is Marco's best friend––and Alyssa's older brother. Still on active duty in the SF, Brady's inability to let go of the past is costing him his career. When a one–night stand with brand–new neighbor Joss forces him to confront everything he'd long avoided, Brady finds himself imagining a future he never thought he'd have. If only Joss will give him a second chance.

Her Forbidden Hero
Order Today

One Night with a Hero
Order Today
Contest ends: March 31, 2013