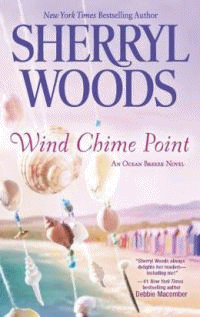 Sherryl Woods's March contest winner needs to go no further than her front porch to enjoy a seaside vacation. The winner will be able to bask in relaxation while reading WIND CHIME POINT (MIRA paperback, May 2013), a new novel from the New York Times bestselling author, and enjoying the sounds of an ocean breeze wind chime singing its saltwater song in the backdrop. WIND CHIME POINT is the second book in Sherryl's Ocean Breeze trilogy about the power of family and love and their ability to make a difference during life's inevitable complications. On March 25, readers can pick up the launch book in the Ocean Breeze trilogy, Sand Castle Bay. Here, she takes readers to the North Carolina coast and introduces them to a new family while employing her trademark heartfelt emotions and keen storytelling.
Two additional prizewinners will each receive a book from Sherryl's backlist.

WIND CHIME POINT
Order Today
Facing a personal crisis, ambitious and driven Gabriella Castle retreats to the welcoming arms of her family. Everything she's worked for has been yanked out from under her, and she seeks the serenity of her grandmother's home on the North Carolina coast. With difficult decisions to make about her future, the last thing she wants is an unexpected love.
Wade Johnson fell for Gabi the first time he saw her. It's not the only time he's found himself in the role of knight in shining armor, but Gabi isn't looking for a rescuer. To get her to stay, Wade will need a whole lot of patience and gentle persuasion...and maybe the soothing sound of wind chimes on a summer breeze.
Learn more about Sherryl on her blog at www.JustBetweenFriendsBlog.com and explore her novels at www.SherrylWoods.com.
Contest ends: March 31, 2013