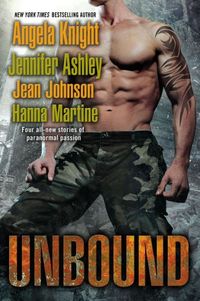 Hanna Martine giving away a copy of UNBOUND, as well as an "Elementals Gift Box" filled with items inspired by the classic elements:

Flower seeds (Earth)
Heart-shaped ice cube tray (Water)
Windchimes (Air)
Candle (Fire)

Unbound
Order Today
Desire is released in these all-new stories by four masters of paranormal romance...
New York Times bestselling author Angela Knight revisits the world of Guardian and genetically engineered Temporal Enforcers Dona and Alerio who combine their talents—and fight their passions—as they investigate a time-travel murder spree.
USA Today bestselling author Jennifer Ashley continues her Shifters Unbound series as Bear Shifter Cormac is determined to take single mom Nell as his mate, despite her objections—until her sons are endangered and she desperately needs help.
National bestselling author Jean Johnson returns to her Vulland Chronicles: On the run after being falsely accused of treason, ex-prince Kiereseth and his companion Vielle take refuge in a snow-bound cabin—and in each other's arms.
And Hanna Martine expands on the fascinating world she introduced in Liquid Lies. After dissolving their arranged marriage so he can win her on his own terms, Ofarian guard David pairs up with the heartbroken Kelsey to try to thwart an enemy to their race
US / Canada Addresses only
Contest ends: March 31, 2013