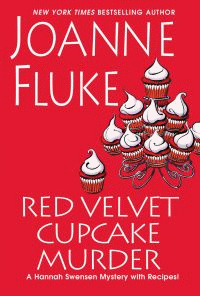 Everyone wants a bite of a Hannah Swensen mystery—enter now to WIN.
Along with a signed Hardcover edition of RED VELVET CUPCAKE MURDER you can win:
Measuring spoons
Measuring cups
Wisk
Bowl scraper
6 cupcake baking pan
Apron
Recipe card
New York Times bestselling author, Joanne Fluke serves–up America's deadliest dessert...and this time beloved bakery owner, Hannah Swensen is the unlikely subject of a murder investigation.
Includes over 20 scrumptious recipes!
"Fluke is the doyenne of deadly desserts with her deliciously popular Hannah Swensen series."—Publishers Weekly
"Loaded with mouthwatering recipes and clever plotting, the latest Hannah Swensen mystery delights."—RT Book Reviews, 4 stars
Enter to win Joanne Fluke's RED VELVET CUPCAKE MURDER Gift Basket today!

RED VELVET CUPCAKE MURDER
Order Today
It's a muggy summer evening in Lake Eden, Minnesota, and Hannah Swensen is attending the Grand Opening of the refurbished Albion Hotel, where her famous Red Velvet cupcakes are being served in the Red Velvet lounge. The event is abuzz with the surprise arrival of Doctor Bev, a local who fled in shame after she two–timed her fiancé one too many times. But the party's over when a guest takes a dive off the rooftop garden. The victim is the sheriff's secretary, and the question is, did she fall—or was she pushed? The only one who isn't preoccupied with the case is Doctor Bev. She's too busy trying to stir things up with her old flame Norman, who's reunited with Hannah...
Just as Hannah's patience runs thin, Bev is found dead at the bottom of Miller's Pond. The only clue the police have is the Red Velvet cupcake Bev ate right before she died—and the tranquilizers someone seems to have baked into it. To everyone's shock, Hannah is now the target of a murder investigation, and she's feeling the heat in a way she never has before...
US / Canada Addresses only
Contest ends: March 31, 2013