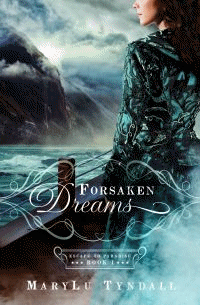 To celebrate the release of her highly anticipated novel, FORSAKEN DREAMS, award–winning author MaryLu Tyndall is giving away a fabulous prize package. Enter today to win a chrome finish brass mechanical pocket watch (retail value: over $130) and an autographed copy of FORSAKEN DREAMS!

FORSAKEN DREAMS
Order Today
They left everything behind to build a new Southern utopia. . .
Embark on a seafaring adventure in a brand–new series from bestselling author MaryLu Tyndall. After witnessing the death and destruction caused by the Civil War, Colonel Blake Wallace is eager to leave his once precious Southern homeland for the pristine shores of Brazil and the prospect of a new utopian community. Widow Eliza Crawford seeks passage on Wallace's ship harboring a dirty secret—and a blossoming hope for a fresh start. But will dangers from the sea and from man keep them from the peace they love and long for?
"Forsaken Dreams is a worthy addition to your keeper shelf, melding adventure, love, and spiritual truths in soul–enriching ways."
–Laura Franz, author of The Colonel's Lady and Love's Reckoning
"Impeccably researched and action–packed, this romantic adventure will have you waiting to read the rest of the series!"
–Kelly Eileen Hake
"Tyndall not only fills each page with accurate historical details and vivid imagery, but she also weaves in danger at every crest of the wave, creating an exciting story that keeps the pages turning."
–Jody Hedlund, bestselling author of Unending Devotion & The Preacher's Bride
US / Canada Addresses only
Contest ends: March 31, 2013