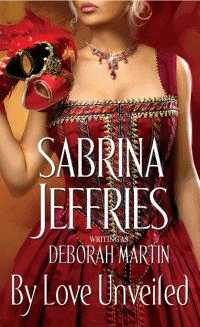 New York Times bestselling author Sabrina Jeffries' heroines command attention in each book she writes due to the strength, intelligence and wit she builds into the characters. This is especially true of Marianne Winchilsea, the fearless star of the author's just–released, reworked Restoration–era romance, BY LOVE UNVEILED (Pocket Books, On sale now!). This month, Sabrina pays tribute to her memorable leading ladies with a March prize package featuring an autographed copy of HOW TO WOO A RELUCTANT LADY, Hellions of Halstead Hall novel, book #3, starring one of her most popular female characters of all time—Lady Minerva Sharpe. In addition, the lucky winner will receive a pair of beautiful, black cameo earrings.

BY LOVE UNVEILED
Order Today
Miss Marianne Winchilsea is running for her life from those whom she believes have attempted to kill the king. Forced to disguise herself, she trusts no one—especially not Garett Lockwood, the Earl of Falkham, who usurped her family home and who seems to be her most dangerous enemy.
And what Garett sees behind her masquerade is a beautiful half gypsy enrobed in mystery, deception, and burning secrets. A woman he should avoid at all costs.
In a world where treachery and betrayal reign, a sweet seduction rules their hearts—and dares them to risk their destinies on a passionate love that all the powerful forces of the world cannot defeat.
To keep up with Sabrina, follow her on Pinterest, Twitter and visit her on Facebook. You can also check out her website at www.SabrinaJeffries.com. Be sure to download her free app from your mobile phone app store for the very latest news
Contest ends: March 31, 2013