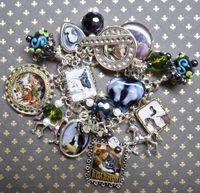 In case you missed a chance at the unique Regency–scene charm bracelet created by Jean Judy to kick off Julia's RANSLEIGH ROGUES series in March, take heart. To highlight the second book, April's THE RAKE TO REDEEM HER, Jean has created another unique bracelet. This time, in honor of heroine Elodie Lefevre, the jewelry features French and Parisian themes, as well as Regency prints. There's even a blank locket in which to place a pic of your love-or a favorite scene. For a chance to win this special bracelet, enter here.

THE RAKE TO REDEEM HER
Order Today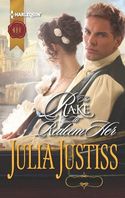 Will Ransleigh, illegitimate nephew of the Earl of Swynford, has the tall, aristocratic bearing of nobility–and the resourceful cunning of a streetwise rogue. To clear his cousin's name he is on a mission that will take him across the Continent into a world of international intrigue–and the arms of Elodie Lefevre, the society hostess who brought shame to his family.
Is she seductress, spy, or damsel in distress? In the haze of the sensual spell she casts, Will has to keep his wits about him and uncover the true nature of this mysterious Madame....
US / Canada Addresses only
Contest ends: April 30, 2013