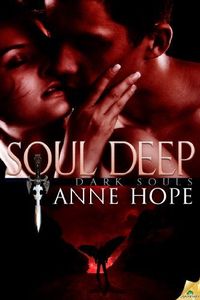 To celebrate the much anticipated release of Soul Deep, book 2 in her Dark Souls series, Anne Hope is offering an autographed mouse pad along with an electronic copy of Soul Bound. See how the adventure began by enjoying the book that not only launched this exciting series, but received a Top Pick from RT Book Reviews and went on to become a 2012 RT Reviewers' Choice Award Nominee!

Soul Deep
Order Today
For nearly two centuries, Marcus has been the Watchers' most faithful soldier. Sworn to protect humanity, driven by an unrelenting compulsion to atone for past sins, he has rarely found a compelling reason to question his mission, let alone defy his leader.
His partner, Regan, is his exact opposite, an enigma he longs to solve. A free spirit and reckless to a fault, Regan acts first and thinks later. Her smart mouth and tender heart have fascinated Marcus for decades, but the Watchers' strict vow of celibacy has forced him to ignore the sizzling attraction between them. Until now.
When Regan goes rogue to protect a very special little boy, Marcus is forced to make an impossible choice—commit an act of treason or watch the woman he secretly loves die.
On the run, hunted by enemies and allies alike, Regan and Marcus fight to thwart an age–old prophecy and guard a boy whose destiny may very well be to destroy the world...or save it.
Contest ends: February 28, 2013