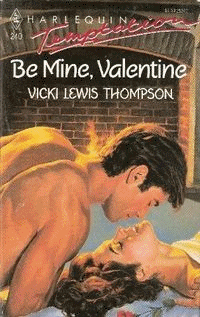 These two classic Temptations include one of my favorite characters -- Charlie Hartman. Charlie has a knack for helping people find true love, and I had so much fun writing about him. Is he really Cupid? Iíll leave that to you to decide. --Vicki

Forever Mine, Valentine
Order Today
Talented artist Jill Amory is tired of her "Jill of All Trades, Mistress of None" reputation. She just can't seem to settle down into the fulfilling, crackerjack career everyone expects from her. So this is going to be the year she decides what to do with her life, traveling across the country to find her bliss. And that means no man — period! — until she's landed the perfect gig.
But destiny, in the form of warmhearted, elderly Charlie Hartman, has other plans. Charlie's convinced he's a modern–day Cupid with his eye on Jill for his friend Spence Jegger, Colorado Springs' resident marriage–a–phobe. Convincing Spence he's going to wed the first woman he sees on Valentine's Day might take some doing...until Spence takes one look at his intended.
Destiny is full of surprises...

Be Mine, Valentine
Order Today
If it hadn't been for a freak snowstorm, Roxie Lowell wouldn't have felt compelled to take eccentric Charlie Hartmann under her wing — only to become the object of his matchmaking zeal. He claimed he was St. Valentine himself, and that the man she met on St. Valentine's Day would be her husband within a year.
Of course, she didn't believe her encounter with rugged contractor Hank Craddock had anything to do with Charlie. How could their overwhelming passion have been engineered by an outside force? Then again, maybe the old vagabond knew more about the ways of the heart than mere mortal woman....
Contest ends: February 28, 2013