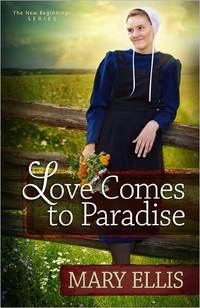 Bestselling author Mary Ellis releases book two of her award-winning New Beginnings series, Love Comes to Paradise. Mary will award Love Comes to Paradise along with one from her backlist to two lucky winners.

Love Comes To Paradise
Order Today
Love Comes to Paradise is the second book in bestselling author Mary Ellis's New Beginnings series. It's about fresh starts...and how faith in God and His perfect plans provide the peace and joy all long for.
Nora King believes she is a woman in love. When Elam Detweiler leaves the ultraconservative Amish district of Harmony, Maine, and moves to Paradise, Missouri, Nora follows soon after. But does she love the man or the independence and freethinking he represents? Although she finds good work in her new town, Nora can't seem to capture Elam's Englisch-leaning heart, no matter how hard she tries.
And then, unexpectedly, Lewis Miller comes from Harmony to offer Nora what every woman needs--a lifetime of unconditional love. As Lewis attempts to claim her heart, Elam's interest piques. Will Nora come to her senses before Elam's thoughtless choices ruin her reputation beyond repair?
PRIZE US / Canada Addresses only
Contest ends: February 28, 2013