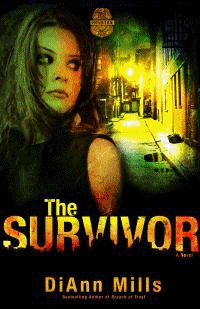 For the romantically challenged, surviving Valentine's Day can be an ordeal. What to give? What to do? How to make the day special for your loved ones?
That would certainly fit the dilemma in which DiAnn Mills' characters find themselves in Book Two of her riveting Crime Scene Houston series. In THE SURVIVOR, which goes on sale March 5 in trade paperback and digital formats, novelist Kariss Walker and Special FBI Agent Tigo Harris are so busy solving another horrendous crime they would be hard pressed to find time to shop for a token of their affection for one another. However, DiAnn has just the ticket—for them and for you! Whether you want to say "I love you" to your husband, your children, parents or friends, plug in this shiny red Kalorik Waffle Maker and put your heart out on the table—along with some delicious syrup! The Waffle Maker turns out five heart–shaped waffles at once. And DiAnn will also send the grand prizewinner—and three great prizewinners—a copy of THE SURVIVOR.
THE SURVIVOR
Order Today
Kariss meets Dr. Amy Garrett, who survived a brutal childhood attack in which the assailant was never found. Now Dr. Garrett wants her story written into a novel. Kariss wishes she could seek the advice of Special Agent Tigo Harris, but she broke off the relationship a few months prior and seeing him again would be too painful. Kariss interviews Amy and conducts her own research, stepping unaware into a viper's pit of danger.
Tigo misses Kariss and wants her back, but he understands why she broke off their relationship. So he concentrates on solving a car bombing and bringing the killer to justice. As Kariss's new story attracts an onslaught of danger that she never expected, Tigo is drawn closer to the woman he loves. He works furiously to find out who wants her dead for writing about an unsolved cold–case, but will he be in time to save her from becoming another case in the FBI's files?
Visit www.DiAnnMills.com to read more about DiAnn's Crime Scene: Houston series—the books are based on real cases from the Houston FBI files. Check out DiAnn's Facebook posts to find out what she's learned by attending the FBI Citizen Academy in Houston.
Contest ends: February 28, 2013