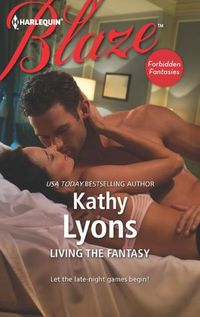 If you like your reading to be on the steamy side....ah, well...then enjoy a 2-Pack of books from KATHY LYONS. Enjoy some Super Hot Reads on a frigid WINTER evening or day. And they're ALL signed by the Author!
Don't forget her latest Blaze: LIVING THE FANTASY
Order LIVING THE FANTASY Today PR representative Alicia Flores is fed up. Her job is a dead end, her love life is nonexistent and life is pretty much...well, boring. So when she's unexpectedly offered a chance to play a character from a video game—the warm and sensuous Queen Guinevere—for a promotional tour, Alicia decides to toss her shy-gal persona...and play her new part to perfection!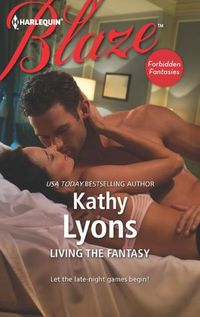 What she's not expecting is sinfully delicious video-game guru Ken Johnson—a rare breed of nerd who is hot, successful and damn sexy. And he knows just how to coax the sexy vixen in her out to play! As late-night pleasures take center stage, Alicia finds herself pulled further into Ken's sinful world of make-believe. But can she give up the fantasy when it's time to return to the real world?
TAKING CARE OF BUSINESS
Order TAKING CARE OF BUSINESS Today

It begins with some seriously sexy action in the elevator. And it doesn't stop there. Julie Thompson is living out her naughtiest fantasies...at work. Who knew she'd find a secret fling right in her own office building?
Sam Finn can't believe his good fortune. The undercover multimillionaire has been watching Julie via the security monitors...and now he has her in his arms anytime he wants! And he wants her there...a lot!
In fact, he's quickly becoming addicted to the great sex they share. Unfortunately, he's just learned that Julie's company is failing and she'll be leaving for good in three weeks.
It'll take all of Sam's business savvy to save the situation. But he'll do it—even if it means making Julie an offer she can't possibly refuse....
Read An Excerpt of TAKING CARE OF BUSINESS
Order UNDER HIS SPELL Today
Nicky Taylor is a driven executive. A total control freak. And magician Jimmy Ray has loved her forever. When he spots her in the audience, he realizes he finally has a chance to fulfill his own lifelong fantasy. With a little help from Dr. Mesmer, that is...
Who'd have guessed that a little hypnotism would unleash Nicky's wildly sexual nature? Or that Jimmy's powers of persuasion would encourage her to burn up the bedsheets with him that night...and the nights after. She's the perfect woman.
Unfortunately Jimmy's pretty sure Nicky's still under his spell. And he has to change that. Because he's quickly falling under hers..
Read An Excerpt of UNDER HIS SPELL
Contest ends: February 8, 2013