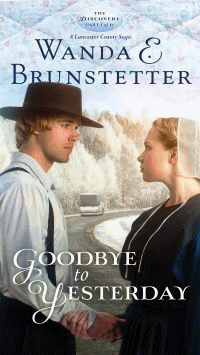 Award-winning and New York Times bestselling author Wanda E. Brunstetter, one of Amish fictionís earliest and most well-known authors, launches The Discovery Saga, a 6-part serial novel series with Book 1, GOODBYE TO YESTERDAY in February. The Discovery offers a compelling love story brilliantly mingled with an unexpected twist.
<To celebrate this unique story, set in Lancaster County, a favorite among readers of Amish fiction, Wanda will award one grand prizewinner an Amish hand-sewn green and book rag rug and a copy of GOODBYE TO YESTERDAY. The rug measures 30" L x 19" W and is sewn using a push petal sewing machine. A lovely accent for your home and a reminder of Amish Country. Four additional winners will receive a copy of GOODBYE TO YESTERDAY.

GOODBYE TO YESTERDAY
Order Today
Financial struggles. Arguments. A confirmed pregnancy. When Luke loses his job, he jumps at the chance to learn a new trade from his uncle in Indiana. Despite his wifeís reservations, Luke makes plans for a quick trip to Middlebury. Along the way, Luke is accosted by a desperate drug addict on the run. When Luke refuses to hand over his wallet, a violent encounter erupts, and the course of his and Meredithís lives change forever. Will their love and faith be strong enough to bring them back together?
To learn more about Wandaís novels, Amish facts and to see photos of her travels, visit www.WandaBrunstetter.com.
Contest ends: February 28, 2013