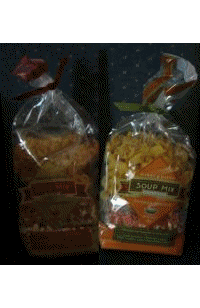 We usually think of Valentine as a day for chocolate and lovers. But in the middle of winter it may be more appropriate to show our love through comfort foods. What better way to cuddle up on a snowy winter day than with someone you love, a steaming bowl of soup, and an entertaining book. Ann DeFee is giving away two Harry and David's soup mixes–Pasta Fagioli and Chicken Noodle. In addition, you can win an autographed copy of In A Pickle.
Happy Valentine's Day

In A Pickle
Order Today
It takes a heavenly wink and a couple of wannabe angels desperate to win their wings for Mary Louise "Pickles" Carson and Cam Hollinwell to find true love. A Las Vegas teacher with a proclivity for all things vintage, Pickles' dream is to have a baby. Considering she thinks men are pond scum, and her sex life is a big fat zero, that aspiration seems highly unlikely. Cam is a washed up journalist whose only goal in life is to return to mainstream reporting. This conundrum will obviously require a miracle.
When neophyte angels, Coco Dombroski and Ace Rodriguez, discover they have to earn their wings they come up with a idea that's translated by the Powers That Be into a scientific oddity called parthenogenesis– conception without the benefit of a male found in plants and lower level species.
Pickles is playing video poker when the angels bowl her over with the news she's pregnant. Impossible! No sloppy French kiss, no sex, no baby–especially not a progeny with Elvis's talent.
Cam's journalistic career tanked as the result of a false date rape charge, and now he's reporting on Elvis sightings for a national tabloid. He agrees to publicize the angel's miracle only if they'll help him resurrect his career. But life becomes more complicated when Pickles witnesses a "hit" and Cam's job is expanded into being her bodyguard.
Our hero and heroine find themselves in a world of romance, murder, mayhem and all things Elvis. Falling in love is a life changing event, but throw in an inept villain and a cast of quirky characters– headlined by female impersonator Merry Chino Cherry and a hunky devil–then set the story in a Vegas tourists rarely see, and you have all the elements of a rollicking good time.
Contest ends: February 8, 2013