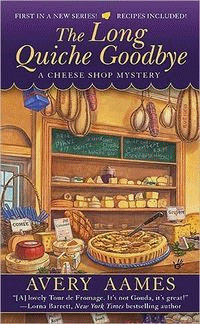 In TO BRIE OR NOT TO BRIE, the fourth in A CHEESE SHOP MYSTERY series, love plays a major role...in murder. Murder, revenge, secrets. An open–air play, a wedding, and an estrangement ending in murder converge and force amateur sleuth Charlotte Bessette to ask the question: which suspect is deciding whether to kill or not to kill again?
Enter to win a signed copy of your choice of A CHEESE SHOP MYSTERY plus...
The Long Quiche Goodbye
Lost And Fondue
Clobbered By Camembert
Win a $15 gift card from Amazon or Barnes and Noble. What a fun way to cuddle up to a good book!

To Brie or Not to Brie
Order Today
Charlotte Bessette—owner of Fromagerie Bessette, known by locals as The Cheese Shop— has a lot on her plate: setting a date with her fiancé, Jordan Pace, feeding the actors in her grandmother's production of Hamlet, and planning the menu for her best friend and cousin's upcoming wedding. At least her new creation—sinfully delicious Brie blueberry ice cream—has turned out perfectly.
Just days before the wedding, the estranged husband of Jordan's sister turns up dead in the Igloo Ice Cream Parlor's freezer, his head bashed with a container of Charlotte's signature ice cream. His death threatens everything that Charlotte has been working toward, and she has no choice but to add one more thing to her to–do list: find the killer before he ruins the big day...
In honor of TO BRIE OR NOT TO BRIE, Avery is having a launch contest on her website! Sign up for her newsletter so you'll be entered.
To read, view, or listen to CHEESE SHOP MYSTERY trailers, excerpts, or podcasts, click here.
Praise for the Cheese Shop Mysteries:
"Fun, flirty, and full of local flavor."
—Kate Carlisle, NYT bestselling author of the Bibliophile mysteries
"...Settle in with a nice cheese, a glass of wine, and enjoy..."
—Lesa Holstine, www.lesasbookcritiques.blogspot.com/2011/04/lost–and&n dash;fondue–by–avery–aames.html
"A delicious read. Charlotte Bessette is a winning new sleuth, and her gorgeously drawn world is one you'll want to revisit again and again. More please."
—Cleo Coyle, national bestselling author of the Coffeehouse Mysteries
"[A] lovely Tour de Fromage. It's not Gouda, it's great!"
—Lorna Barrett, New York Times bestselling author
Contest ends: February 28, 2013